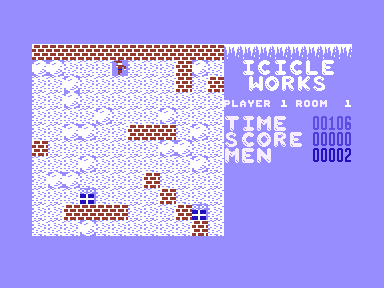 If you had a Commodore Plus/4 then you probably played Icicle Works at some point. It was created by young programmer, Doug Turner, who also went on to make a handful of other games (Fingers Malone, Prospector Pete). Turner is about to launch his first Plus/4 game in nearly 35 years: A sequel to Icicle Works, featuring Prospector Pete!
Hi Doug, thank you for taking the time to talk with us. How did you get into writing games?
That's what I'd always wanted to do from the first time I saw a home computer. I was one of the first people round our way to get one in the early '80s. I looked at the ZX81, and rejected it immediately. So I started out with a VIC-20, which I used to learn programming on.
Nothing was available to help us back then. We were completely on our own. My friends were as keen as me, and a few of us had machines, but no-one knew any more that anyone else. We stumbled around in the dark, piecing it together as we went. There were few books around – how to program BASIC, learn 6502 etc., but to be honest they were all pretty useless. I soon got frustrated with BASIC, as I could not make anything that looked like the commercial games that were available, so I taught myself machine code using a monitor program that I bought. That was hard work! I wrote a little demo for a local TV shop, but I was losing interest in the VIC-20. There were rumours of the Commodore 64 coming.
I bought one of the first batch of C64s to enter the country, and was instantly in love with it, but had no clue of the inner workings of the machine. I kept dabbling, but went off to Uni and decided to focus on that instead.
During that first year at Uni it became very clear that the home computer market was exploding, and I thought to myself – I really need to get in some of this action. During that year I reverse engineered the C64 tape system and wrote a fast tape loader. I approached a local software outfit called Dream Soft, and they agreed to market it for me. Burner was born, and we got quite a bit of interest in it.
This confirmed to me that I could do it, and that there was a lot of fun to be had doing it – but what was I doing stuck at Uni? So I approached my professor who completely understood, and agreed to me taking a year out to give it a shot. My place would be held for me – I had nothing to lose.
The fast loader was OK, but it was an erratic income. To have any chance of making it I needed to be writing games, so I gave it a shot.
Your first published game appears to be Icicle Works. How did that end up in Commodore's Plus/4 pack-in games?
Icicle Works was my first published game, but not my first game. I wrote one before that, for the C64, that never got published. It was a Pacman clone, which I tried hard to get as close as possible to the arcade version. It took me longer than I thought, and unfortunately in the time it took me to complete it the market had become awash with Pacman clone games. I'd missed that opportunity.