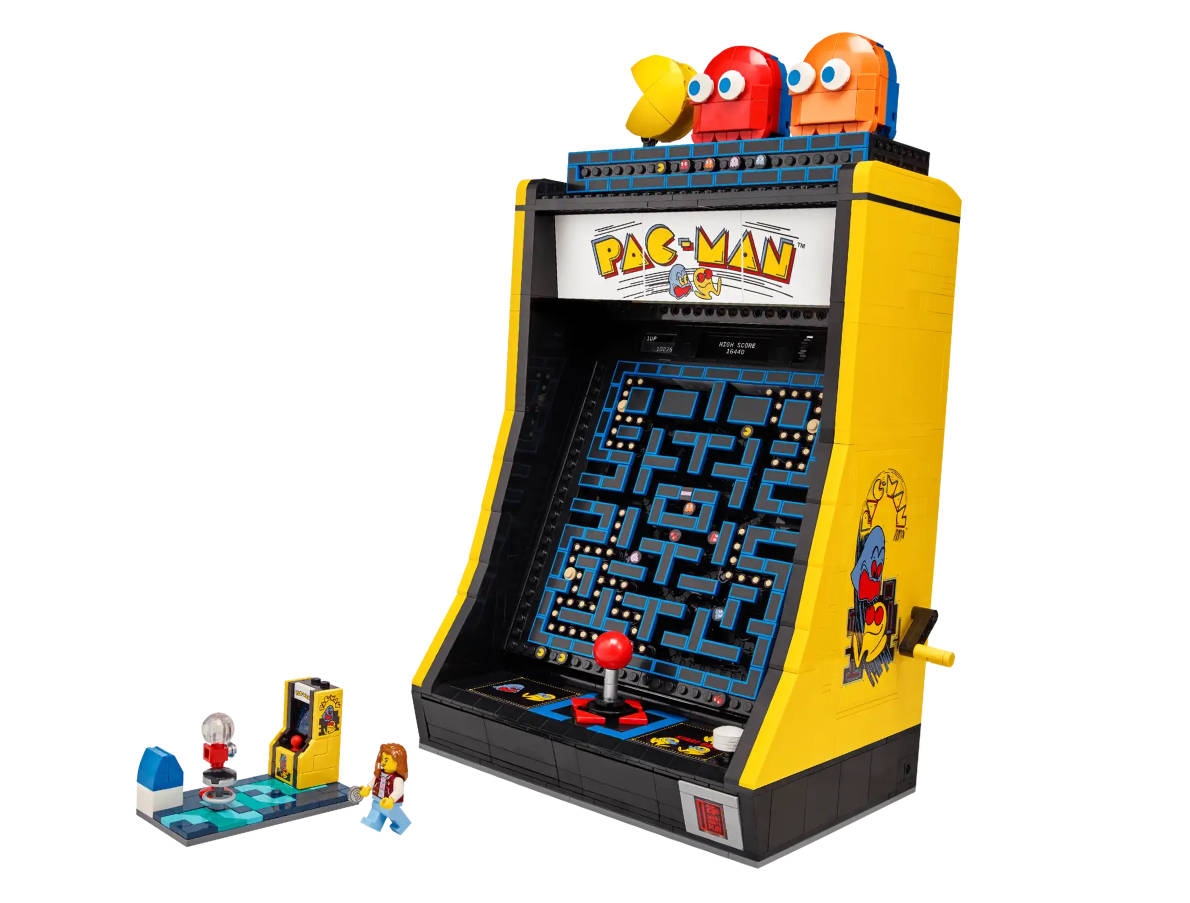 Lego have teamed up with Bandai Namco Entertainment to produce a Pac-Man Arcade set. And it turns out that Pac-Man's yellow colour was inspired by the Lego logo.
Originally released on 22nd May 1980 by Namco in Japan, the Pac-Man video game became a cultural icon. After 40 years of being a part of pop culture worldwide through games, TV shows, music and more, the Lego Group has collaborated with Bandai Namco to bring the 80s classic back in brick form. This collaboration led to the unique discovery that Pac-Man's famous yellow colour was inspired by the Lego Group's signature colour.
The new Lego set design shows an arcade version of Pac-Man and allows you to recreate some of the legendary ghost munching moves of the game. In addition, builders can create large colourful brick versions of Pac-Man, Blinky and Clyde that rotate on a base, and can be displayed on top of the cabinet or separately.
Once complete – you can light up the coin-slot, plus there is a small vignette of a female minifigure playing PAC-MAN on an arcade, hidden inside of the cabinet.
Sven Franic, LEGO Designer comments: "A cultural icon for the past 40 years, it was a delight to bring PAC-MAN to brick life. We are always looking for new and exciting ways to bring classic gaming experiences to life. Our team of talented designers worked tirelessly to capture the essence of the beloved PAC-MAN arcade machine in brick form, from PAC-MAN himself to the colourful, maze-like environment he inhabits. Every detail was carefully considered and crafted, resulting in a one-of-a-kind LEGO creation that captures the magic of the original game while adding a playful new twist and a couple of Easter eggs – in true video game style. We are thrilled to share this incredible build with the world and cannot wait to see the joy it brings to fans of all ages."
Aadil Tayouga, Director of Licensing and Business Strategy at Bandai Namco Europe says: "Bandai Namco and the LEGO group share a lot of common values, notably aiming at providing fun for all people through quality products. In addition to these values, since PAC-MAN yellow was actually inspired by the LEGO Group yellow, it made the connection even more natural. It has been a tremendous collaboration with the passionate teams at the LEGO Group and we hope that fans will enjoy this kit."
LEGO VIP members will have early access to purchase the LEGO PAC-MAN Arcade set from 1st June 2023 from LEGO.com/PAC-MAN and LEGO Stores, or available to all from 4th June 2023 at the recommended retail price of $269.99 / €269.99 / £229.99.