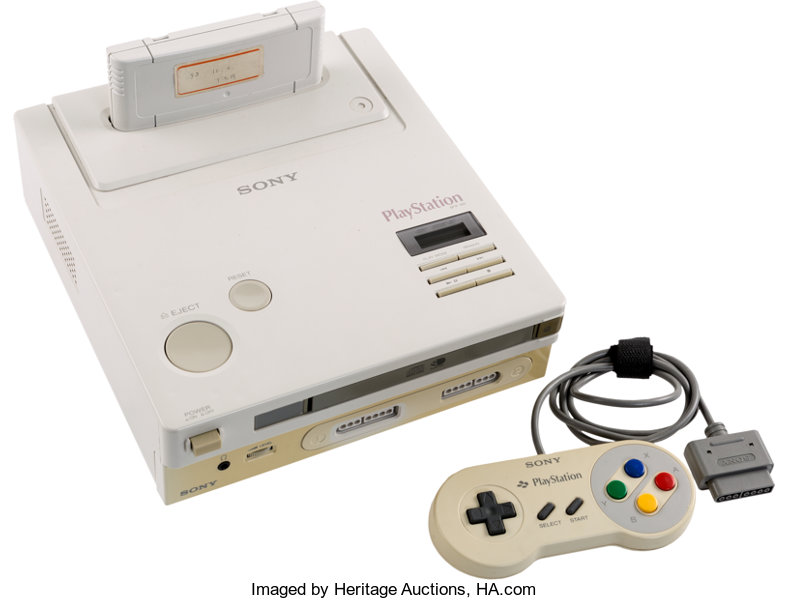 Back in the early nineties, Sony and Nintendo were working on an add-on for the Super Nintendo, which would allow the SNES to play CD-ROM games. Sony was to also release a stand-alone console, called a "
Play Station
" which would play the new CD-ROM games as well as SNES games. (Sony used this name for their
own console
at a later date)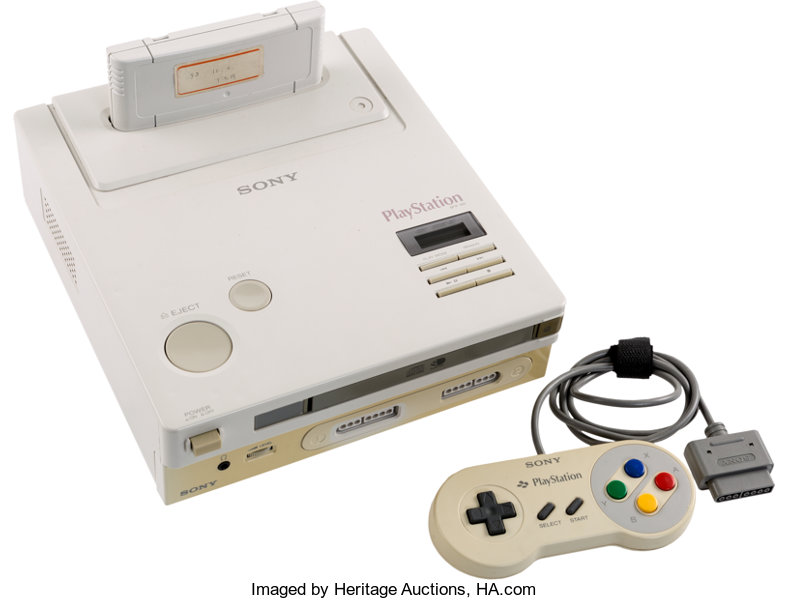 it didn't work out, and all 200 prototypes of the "Nintendo Play Station" were supposedly destroyed.

Back in 2015 it was revealed that not all the prototypes were destroyed. Polygon reported that one had been discovered by Terry Diebold.

You now have your chance to own a piece of very rare gaming history, as the Nintendo Play Station is up for auction at Heritage Auctions, who say:
Nintendo Play Station Prototype – Sony and Nintendo c. 1990–92.

At one point this dual-branded prototype's existence was mere myth, and this is the very first time it will ever be offered at public auction. It is said to be the last remaining prototype of 200 that were forged from the failed joint-venture between Sony and Nintendo, two of the biggest competitors in the modern home console video game market.

This prototype not only has a slot for Super Famicom and Super Nintendo games, but a CD-ROM drive that was meant to play disc-based games and media. However, the console did not make it far enough through the development stage for any proprietary disc-based software to be created that is currently known. Though the CD-ROM drive was not currently working when it was found in 2009, it has since been repaired by Benjamin Heckendorn, a YouTube personality known for his console repair videos.

Reportedly, the other 199 prototypes were destroyed when the promising partnership soured and fragmented. This unit was at one time owned by the founder, first president, and chief executive officer of Sony Computer Entertainment, Inc., Olaf Olaffson. Olaf eventually made his way to become a member of the board of directors of Advanta Corporation, and became its president in 1998. A little over a year later, Olaf left Advanta to join Time Warner – but he left his Nintendo PlayStation prototype behind at Advanta. Roughly around this time Advanta filed for bankruptcy, and began gathering up everything in their corporate office to sell at auction. As the story goes, the Nintendo Play Station prototype was grouped together with some miscellaneous items that was boxed up, veiling the contents of what was included in the lot – a nice Easter egg for the winning bidder, indeed!
Bidding reportedly starts at $1m.