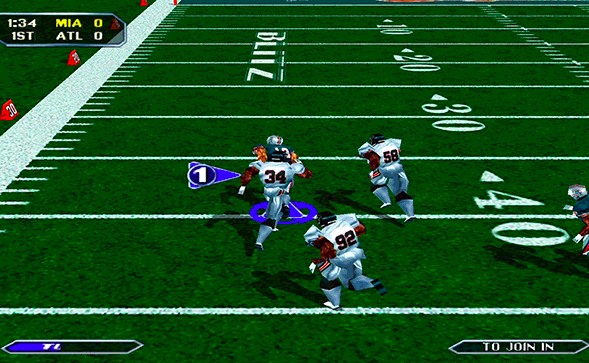 Arcade1Up have announced their latest arcade cabinet replica, NFL Blitz, which is apparently one of their most requested home arcade machines. The cabinet features NFL Blitz, NFL Blitz '99, and NFL Blitz 2000: Gold Edition.
The original games were released by Midway in the late '90s and officially licensed by the NFL, and featured every pro team during that time.
The cabinet features four x 49-way controllers, as well as the ability to play multiplayer via WiFi.
Due to the various license agreements involved, not only with NFL, but also the players features, there has had to be some changes.
With regards to player names, Arcade1Up say that they've worked closely with the NFL and the retired players association to bring back as many players as possible: "We included all major names like Dan Marino, Chris Carter, Jerry Rice, Jerome Bettis, Deion Sanders and hundreds more."
The biggest change for some fans, is the removal of after-the-whistle hits.
Arcade1Up say "To support the NFL's current Player Health & Safety initiatives, a specific set of tackles and after-the-whistle hits were removed or edited in the remastered versions of NFL Blitz, NFL Blitz '99 and NFL Blitz 2000: Gold Edition while maintaining the level of excitement in the original games."
NFL Blitz fans on reddit were quick to notice:
Features:​
Officially licensed by the NFL
WiFi Multiplayer
Light-Up Marquee
1-4 Players Simultaneous
49 Way Joystick
3 in 1 game
Branded Riser
Headphone Jack
Games:​
NFL BLITZ
NFL BLITZ '99
NFL BLITZ 2000: GOLD EDITION
Specifications:​
17″ Color LCD screen
Assembled Dimensions: 25" D x 31" W x 60.7" H
Box dimensions 23.75" H x 13" D x 47.75" W
Weight: 92 lbs
Adjustable Volume
Clear Deck Protector
Anti-Tip Over Strap
Shipping in October, the NFL Blitz Legend cabinet will retail for $599 and is available in US and Canada only. You can find out more at Arcade1UP