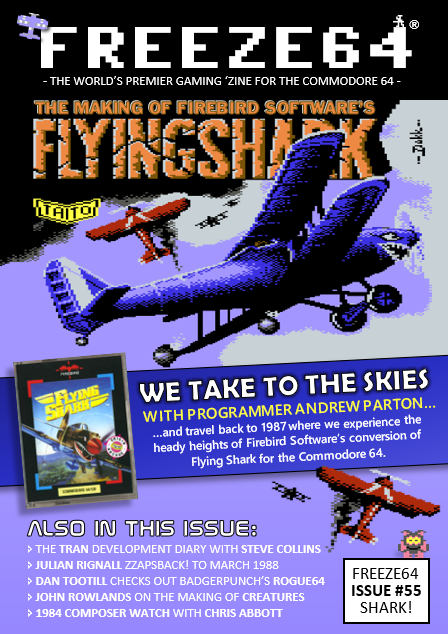 Vincenzo Mainolfi is about to launch the latest issue of Freeze64 to subscribers. The upcoming issue 55 has a cover feature on Firebird Software's C64 conversion of Taito / Toaplan's Flying Shark.
As well as the Flying Shark feature, the mag also features Rogue64 and Creatures. Full details are below:
COVER FEATURE: FLYING SHARK​
We're taking to the skies for a retrospective look at Firebird Software's arcade conversion of Taito's Flying Shark, which they released back in 1987.​
​
JOHN ROWLANDS' APEX ARCADE​
John is back and takes you on a journey through the earliest part of the development cycle of the game that arguably cemented the arrival of Apex in to the Commodore 64 community, Creatures.​
​
JULIAN RIGNALL'S ZZAPBACK!​
Our Julian celebrates SIZZLERS & GOLD MEDALS from ZZAP!64 issue 34, which was on our newsagents' shelves during March 1988. He revisits Battle Valley, Ikari Warriors, Predator, Project Stealth Fighter and the fab Zybex.​
​
SECRET SQUIRREL INVESTIGATES​
Two cracking and memorable Commodore 64 games are assigned a new case file where our intrepid tree-hopping rodent reveals a few hidden elements that you may not have spotted the first time round.​
​
DEVELOPERS' DEN: ANDREW PARTON​
More often than not, our lovely FREEZE64 interviewees are lesser known by their actual names, and are more famous and recognisable for the games they have produced. This is definitely the case for this issue's interviewee, Andrew Parton. We catch up with Andrew and chat about his time in the games industry producing Flying Shark and Maze Mania.​
​
WE DON'T DO REVIEWS!​
Dan Tootill is back with another cracking review (WE DON'T DO 'EM!) of a new game for the C64. This time round he checks out Rogue64 from BadgerPunch and Bitmap Soft.​
​
COMPOSER WATCH WITH CHRIS ABBOTT​
Chris Abbott's Composer Watch journey reveals the C64 SID composers and their fab tunes from 1984. Chris continues the journey with Ben Daglish, David Whittaker, Martin Galway, David Dunn, Fred Grey, and Paul Hodgson.​
​
OUT OF THE 'MOULDY CUPBOARD'​
After a short break away, the Mouldy Cupboard returns with another new – or is it old – game that has been prized away from the deepest, darkest depths of our damp and mouldy cupboard – it's real don't you know?!​
​
DIARY OF A GAME – TRAN BY STEVE COLLINS​
Our Steve is back with part 10 of his TRAN diary. This time round he starts working on his droid firing code along with the collision routines.​
Subscriber copies are set to start dispatching from Saturday 20th August. The issue will be on general sale w/c 29th August.
You can find out more about the Mag and details of how to subscribe here.