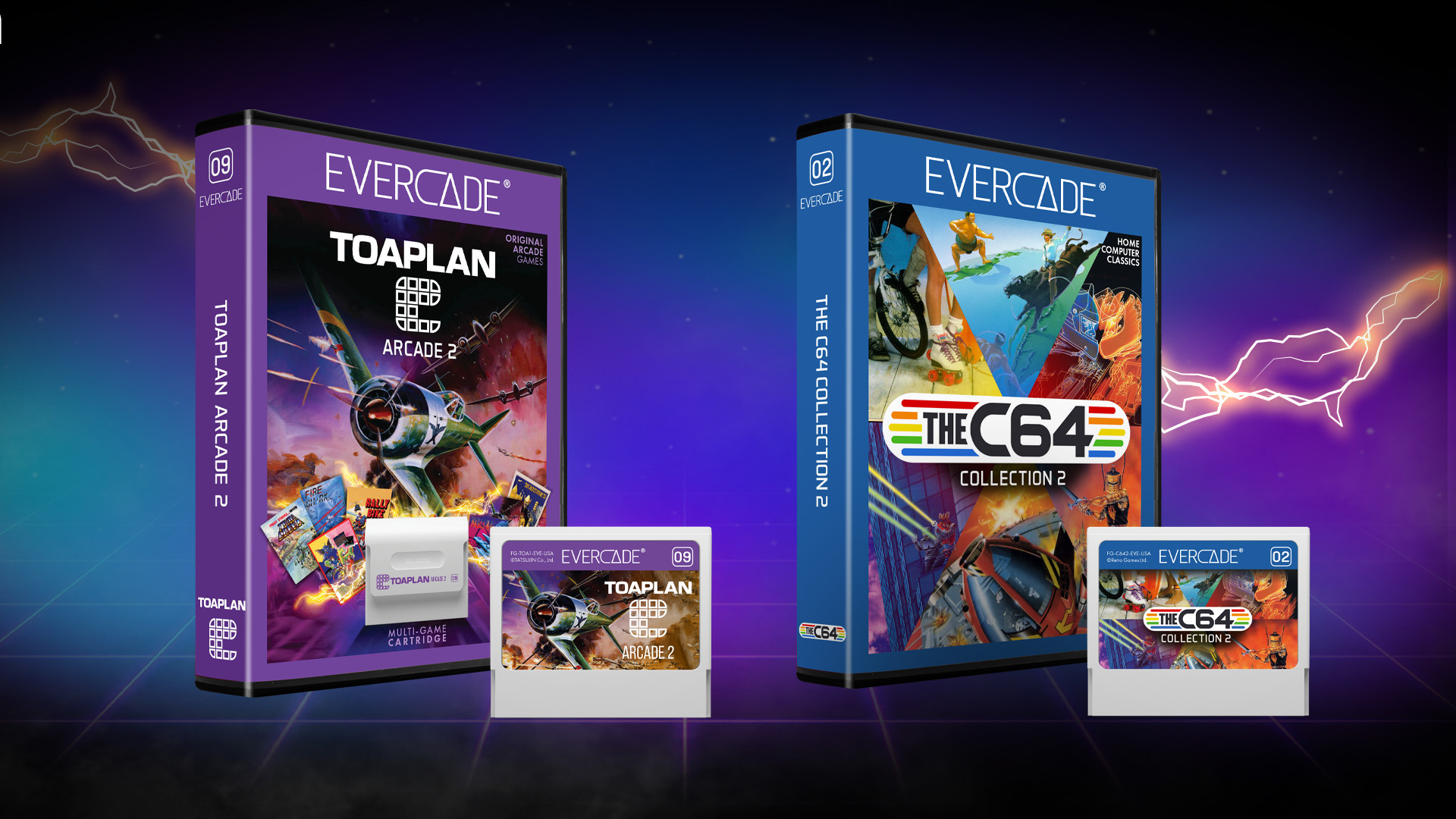 Blaze Entertainment have announced two new cartridges for their Evercade platform: Toaplan Arcade 2, and TheC64 Collection 2. Both cartridges are due to launch in April, with pre-orders open later this month.
Toaplan Arcade 2​
Fire Shark​
Shoot 'em up
One of Toaplan's most notoriously challenging shoot 'em ups comes to Evercade. Take on the Strange Fleet armada in Fire Shark, the world's most powerful biplane. If you can one-credit clear this one, you really know your shoot 'em up stuff.
Twin Cobra​
Shoot 'em up
Toaplan's follow-up to Tiger-Heli blasts onto Evercade! In Twin Cobra, you'll pilot the TC-7 Twin Cobra attack helicopter into a deadly war zone. Bring a friend for more firepower!
Twin Hawk​
Shoot 'em up
Toaplan's challenging vertically scrolling shoot 'em up comes to Evercade — and you're not alone in your mission this time. In Twin Hawk, you can summon a squadron of helpers to provide supporting fire at the touch of a button. Don't worry, you'll still get all of the glory.
Hellfire​
Toaplan's first horizontally scrolling shoot 'em up hits Evercade! In Hellfire you'll blast your way through the forces of the evil Super Mech and his deadly Black Nebula space matter.
Rally Bike​
Racing
Toaplan's vertically scrolling games often involve you blowing up everything in sight, but in Rally Bike you'll need to avoid causing chaos as you race across the United States! Don your helmet, grab your Evercade and get ready to race!
Wardner​
Platformer
Toaplan's challenging platformer Wardner comes to Evercade. Take on the role of the brave Dover as he attempts to rescue his friend Mia from an evil warlock!
Demon's World​
Platformer
Toaplan ain't afraid of no ghost, and you shouldn't be either in this supernatural platform shooter for Evercade. In Demon's World, you'll fend off the undead with your powerful weaponry — or just bounce on their heads if you're feeling particularly feisty.
TheC64 Collection 2​
World Games​
Sports
World Games brings international C64 sports competition to Evercade! Compete in a variety of indoor and outdoor sports ranging from weightlifting to bull riding.
California Games​
Sports
California Games is the gnarliest, most radical C64 sports competition on Evercade, dude! Prove how totally tubular you are with surfing, skateboarding, BMX biking, roller skating, foot bag and the flying disk!
Impossible Mission II​
Platformer
Dr. Elvin Atombender is causing trouble again in Impossible Mission II, another C64 classic for Evercade. Infiltrate Elvin's towers, crack numerical codes and uncover the musical password that will lead you to victory!
Pitstop II​
Racing
The race is on in this high-speed C64 classic for Evercade. Challenge the computer to a race or championship, or take on a friend in split-screen action on Evercade VS. Remember you're in charge of the pit crew as well as the driving!
Sword of Fargoal​
Action RPG
Sword of Fargoal brings classic C64 dungeon-crawling action RPG action to Evercade. Delve into the dungeons in search of the famous weapon, gathering gold and training yourself along the way. Can you survive the challenges ahead?
Street Sports Basketball​
Sports
Shoot some hoops on the street with Street Sports Basketball, a C64 sporting classic for Evercade! Build your team from a lineup of aspiring basketball superstars, then outwit your opponent on a variety of improvised courts. Compete against a friend on Evercade VS!
Uridium​
Shoot 'em up
Uridium, a legendary C64 shoot 'em up, comes to Evercade! The Super Dreadnoughts are coming, and only you can stop them in your Manta fighter. Stay on target!
Cybernoid​
Shoot 'em up
Cybernoid, an intriguing blend of shoot 'em up and platformer action, is a favourite from the C64 library, now for Evercade. Can you retrieve the stolen Federation materials from the space pirates?
Nebulus​
Platformer
There are towers to topple, and you're the only one for the job in Nebulus, a challenging C64 platformer for Evercade. Climb to the top, blow the joint then escape in your mini-sub!
Firelord​
Adventure
In Firelord, a sprawling C64 action adventure for Evercade, it's your job to recover the Firestone from the Evil Queen. But there's four Charms of Eternal Youth to track down first… and plenty of other challenges along the way!
Slayer​
Shoot 'em up
Sometimes you just need a good, uncomplicated blastathon, and that's exactly what you get from Slayer, a horizontally scrolling C64 shoot 'em up for Evercade.
Zamzara​
Platformer
Zamzara is a challenging C64 platformer, now for Evercade. Can you escape from the depths of a laboratory complex before the deadly time bomb explodes?
Insects in Space​
Shoot 'em up
Insects in Space is an early C64 title from industry legends Sensible Software, casting you in the role of the laser-eyed angel Saint Helen. Enjoy the frantic blasting action on Evercade!
Mission Impossibubble​
Action
Mission Impossibubble, an exploration-centric C64 action game for Evercade, challenges you to solve the mystery of the teleporters, assemble mystical scrolls and rescue your friends!