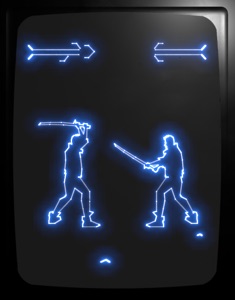 Samurai is a two playter katana duel game for the Vectrex by FutureVector, who were also responsible for Vextrex Wipeout-tribute, WireOut.
To succeed, you need to learn from the illustrious masters of Edo's era. You will need to observe your enemy, hold your strike until the last moment, parry and carry out a deadly strike-back. Each warrior will have the opportunity to express his art of the sword by choosing three attributes before the first fight. May your blade be fast enough to cut down your enemy or may you suffer a violent end ?!​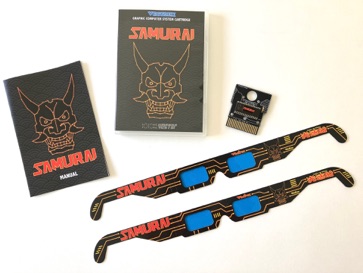 Each Samurai game is numbered and contain a box in DVD format, a special Slimcart which will stay firmly in the box, an 8-pages manual and 2 pairs of a brand new device for the Vectrex: The Samurai Tech Infovisor! This new device replaces the traditional Vectrex overlay and allows you to see the whole world through an overlay! Additionally Samurai comes on a 64k cartridge which will contain a second Fighting Bonus Game called «Robusters».
---
More infomation about the game can be found at the FutureVector website.