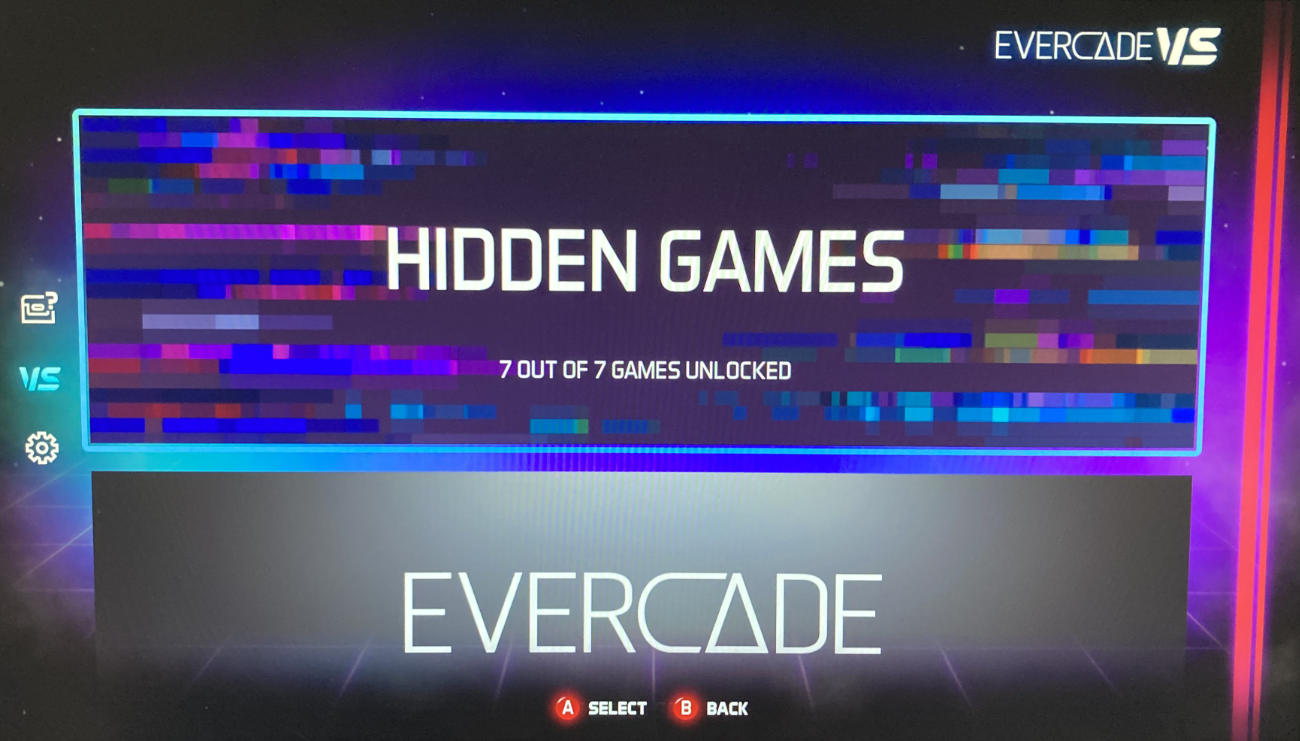 If you have an Evercade VS or Evercade EXP – you may be aware that there are some hidden games you can access. Some of them are built into the device, and others require certain combinations of cartridges. What you may not know, is that there are some secret games you can access on the original handheld.
Read on to find out more about all the hidden games on the Evercade and how to access them. If you know of a hidden game we've not got listed, let me know.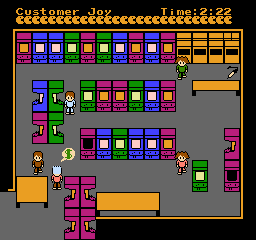 Arkade Rush​
Arkade Rush is a co-op game for 1-4 players by Bite The Chili Productions. It was originally written for the NES for the 2020/21 NESDev Competition. The aim of the game is to fix broken arcade machines to keep an arcade running.
Available on: Evercade VS
How to access: Gaelco Arcade Collection 1 and Indie Heroes Collection 1 at the same time.
---
Bang!​
Point Blank style light gun shooter game. Without a light gun.
Available on: Evercade VS
How to access: Insert Gaelco Arcade Collection 1 and Gaelco Arcade Collection 2 at the same time
---
​ Fairy Fire​

Fairy Fire is a Defenders type game, but with fairies instead of people, and ghosts instead of aliens, and you're not a spaceship, you're this wizardy dude. And it's a bit like Flicky, in that you have to guide the fairies to an exit.

Available on: Evercade VS
How to access: On the main screen, with no cartridge inserted, press Menu 10 times

---

Gotris​

Gotris is a combination of the board game Go, and the falling blocks game, Tetris. It was written as a Homebrew game for the Sega Master System in 2019 by Tuxedo Games. Play against the computer or a second player, and score by surrounding pieces from one colour with the ones of the other colour in order to clear them.

Available on: Evercade VS, Evercade EXP
How to access: On the main screen, with no cartridge inserted in the device, hold down L2 + R2 + Select

---

​ Gribbly's Day Out​

Gribbly's Day Out is a classic 2D platformer video game developed by Andrew Braybrook and published by Hewson Consultants. Released in 1985, it was initially developed for the Commodore 64, which is the version available on the Evercade system.

Available on: Evercade VS, Evercade EXP
How to access: On the Secret Menu in Settings, enter the code GRIBBLYGROBBLY

---

Hummingz​

If you like Centipede you'll like Hummingz.

Available on: Evercade VS
How to access: On the main screen, with no cartridge inserted in the device, enter L2, L2, R2, R2, L1, L1, R1, R1

---

​

Kobu 1 and Kobu 2​

First and second games in the Kobu series – (Kobu 3 is on Indie Heroes 1)

Available on: Evercade VS, Evercade EXP
How to access: On the Secret Menu in Settings, enter the code SEIJIWASHERE

---

Maniac Square Prototype​

Available on: Evercade VS
How to access: Insert Gaelco Arcade Collection 2 and select the game, Maniac Square. Hold down L1 + L2 + R1 + R2

---

NNNNNN​

NNNNNN is a multiplayer NES port of the Gravitron from Terry Cavanagh's game, VVVVVV. Written by Bite the Chili Productions, in the game you need to dodge obstacles by pressing left and right, and try for the best survival time. Can be played by 1-4 players.

Available on: Evercade VS, Evercade EXP
How to access: On the main screen, with no cartridge inserted in the device, hold down L1 + R1 + Up

---

Pyramids of Ra​

Available on: Evercade VS
How to access: Insert Piko Collection 1 and Piko Collection 2 at the same time

---

​ Raid on TriCity: Second Wave​

Raid on TriCity is a combination of fixed-screen-shooter and tetris-clone. It was launched for the Atari Lynx in 2021 by Fadest and Yatsuna Games.

Available on: Evercade VS, Evercade EXP
How to access: Insert Atari Lynx Collection 1 and Atari Lynx Collection 2 at the same time

---

​ Roids​

Roids is an Asteroids clone, and a hidden game within Gremlin's 4×4 Racing.

Available on: Evercade Handheld, Evercade VS, Evercade EXP
How to access: Load the game Hardcore 4 x4 on Gremlin Collection 1. From the main menu select Race Type and choose Time Trial, then go to Start Game. Go to Edit Names and enter DUTCHMAN as the name. A very nineties looking face will appear on the screen.

Hit Back (Y Button) until you get to the screen that says Start and Options on it. Choose Options, then go to Credits – You can then play a version of Asteroids called Roids, with the asteroids replaced by faces of the coders.

---

Spacey McRacey​

Race through space and blast your friends in Spacey McRacey, a chaotic 4-player party game, originally written for the NES by Bite the Chili Productions. Your goal is to be the first person to pass each barrier. Dodge the barriers, blast your friends, grab powerups, and try to be the person at the top!

Available on: Evercade VS, Evercade EXP
How to access: On the main screen, with no cartridge inserted in the device, hold down L1 + R1 + Down

---

​ ​ Twin Brats​

Originally released in the arcades by Elettronica Video-Games in 1995, Twin Brats is a Lady Bug style game, in which you play as a baby. In the original arcade version, you are "rewarded" with adult pictures between the rounds. These have been removed in the Evercade version.

Available on: Evercade VS
How to access: Insert Piko Collection 1 and Gaelco Arcade Collection 1 at the same time

---

Un-named Sinistar Clone​

If you want to play a Sinistar clone, you can find one hidden in the Sensible Software game, Mega-Lo-Mania.
Available on: Evercade Handheld, Evercade VS, Evercade EXP
How to access: Insert Codemasters Collection 1. Load the game Mego-lo-Mania. Go to the in-game Options menu (after the player select screen), and press Load / Save. Enter JOOLS

---

Zombie Madness​

Homebrew platform game written for the Intellivision.

Available on: Evercade VS
How to access: Insert Intellivision Collection 1 and Intellivision Collection 2 at the same time

---

Unknown Toaplan Game​

Available on: Evercade VS
How to access: Insert Toaplan Arcade Collection 1 and Toaplan Arcade Collection 2 at the same time