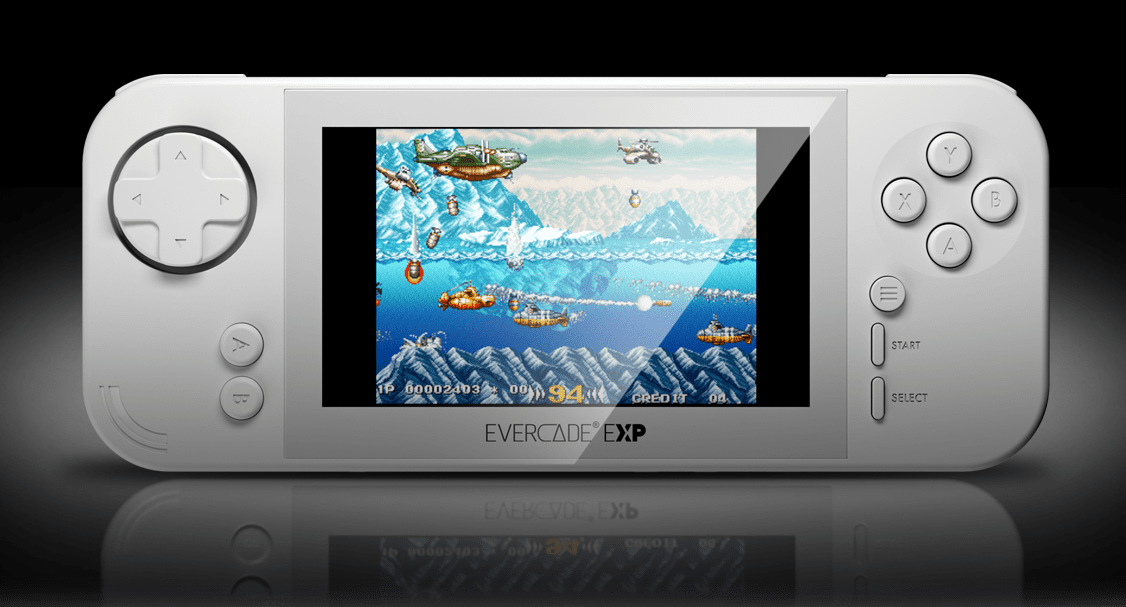 Yesterday Blaze celebrated the second anniversary of its
Evercade
system with an announcement of new hardware, the Evercade EXP, and two new arcade carts: IREM and Toaplan.
Blaze officially announced the Evercade system back in 2019, with a trailer showcasing their new handheld system, and in May 2020, the Evercade Handheld was launched along with ten cartridges and four more on the way. Since then, multiple cartridges have been released alongside new hardware, The Evercade VS, which was a home console version of the original Evercade handheld.
Sadly the time has now come for the original Handheld to be retired. The device will receive a final firmware update later in the year to ensure it can play the latest cart releases for as long as possible. But does this mean you will no longer be able to play Evercade on the go? Hell no!
Introducing the Evercade EXP!​
The Evercade EXP is the next iteration of the original handheld. It features a number of improvements over the original system:
Improved Screen: The Evercade EXP features a high resolution 4.3" IPS screen. The screen provides awesome bright andcolourful visuals, perfect for classic retro games, and great viewing angles, from whichever position you are playing. The screen is covered by a tempered glass bezel for stronger protection, creating a clear gaming experience.
Two extra shoulder buttons: The original handheld only features a left and right shoulder button. Like the VS Console, the EXP has been joined by L2 and R2 buttons, which will allow for more choice in games to be emulated (Such as PSX games)
USB C: The EXP features the new standard USB-C for charging over the Micro USB found in the Handheld.
Wifi: The EXP features Wifi to allow the system to receive updates and other online features.
If that isn't enough, the new system has a very exciting feature…
Tate Mode​
Tate Mode is the ability to play vertical games the way they should be played. The EXP allows you to rotate the device 90 degrees and play vertically, as the EXP has a second set of A and B buttons for this very use case. Ideal for some of the arcade games already on the system such as Centipede. It would be great also for playing games such as Truxton or Flying Shark, if only they were available on the Evercade.
Wait, what? They will be?
New Carts: IREM and Toaplan​
Two new arcade carts are being launched alongside the system – IREM Arcade 1 and Toaplan Arcade 1. Between them featuring classics such as the aforementioned Truxton, as well as R-Type, Moon Patrol, Zero Wing, Snow Bros and 10-Yard Fight.
The Games In Full:
IREM Arcade 1
R-Type
Moon Patrol
In the Hunt
Battle Chopper
Lightning Swords
10-Yard Fight
Toaplan Arcade 1
Tiger Hell
Alcon (Slap Fight)
Guardian
Flying Shark
Truxton
Zero Wing
Snow Bros.
Teki Paki
Tech Specs for the EXP​
4.3" IPS Screen (800×480)
Bonus content (TBA Sep 2022)
TATE Mode for vertical screen orientation.
1.5Ghz Processor
4GB Built-in Memory
Stereo Speakers
USB-C Charging Port (cable included)
Built in WiFi for easy updates
3.5mm Headphone Jack.
720p Mini HDMI Output for TV (cable not included)
3000mA battery for 4-5 hours gaming
192.7 mm ( 7.76″) x 78.5 mm ( 3.1″) x 20.7mm ( 0.8″)
Limited Edition Black Edition​
Funstock Retro are selling a limited edition black version of the EXP (5,000 units), which opens for pre-orders at 5pm BST today. As well as the console, you will also receive:
IREM Arcade 1
Toaplan Arcade 1
Exclusive Hard Carry Case
Certificate of Authenticity
Exclusive EXP Art Cards
Evercade Keyring
Limited Edition Poster
Bonus Content (Announced September 2022)
The Evercade EXP will launch Winter 2022 from £129.00 / €149.99 / $149.99
Evercade Roadmap​
Earlier this year, Blaze announced a Roadmap for the years Evercade announcements – there's only a few things left to announce now, but here's what we know so far:
June 2022​
Morphcat Games Collection 1 (features Micro Mages, Space Gulls, Böbl, Super Bat Puncher Demo, Micro Mages Second Quest)
Intellivision Collection 2 (features Auto Racing, Cloudy Mountain, Hover Force, Motocross, Mountain Madness Super Pro Skiing, Reversi, Sharp Shot, Stadium Mud Buggies, Star Strike, Super Pro Decathalon, Tower of Doom, Vectron)
July/August 2022​
Jaleco Arcade 1 (features Rodland, Saint Dragon, E.D.F. Earth Defence Force, Avenging Spirit, 64th Street: A Detective Story, Cybattler, P-47: The Panthom Fighter, The Astyanax)
Gaelco Arcade 2 (features Big Karnak, TH Strikes Back: Thunder Hoop 2, World Rally 2, Squash, Touch and Go, Maniac Square)
November 2022​
Indie Heroes Collection 2 (featuring Tapeworm, Nessy the Robot and more TBA)
Winter 2022​
Evercade EXP Console released