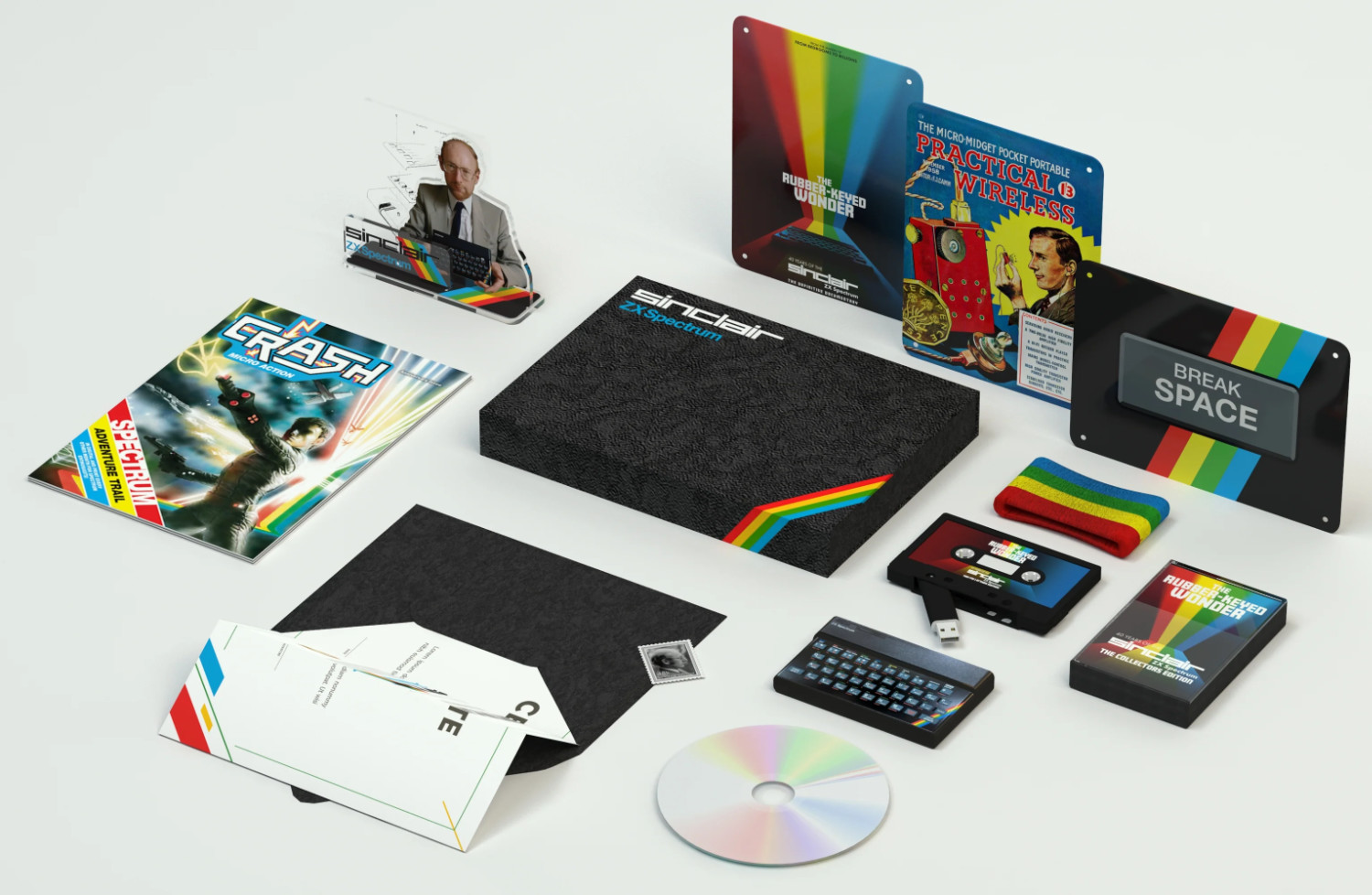 Ahead of a new documentary on the ZX Spectrum, comes a limited edition Deluxe Collectors box, featuring a copy of the film, and various other pieces of Speccy merch.
The new film, The Rubber-Keyed Wonder: 40 Years of the Sinclair ZX Spectrum, is being made by Anthony and Nicola Caulfield who are the duo behind documentaries From Bedrooms to Billions (2014), From Bedrooms to Billions: The Amiga Years (2016) and From Bedrooms to Billions: The Playstation Revolution (2020).
The Collectors Box, which has been created by the Caulfield's in collaboration with the Sinclair estate includes:
1 x Certificate of Authenticity from the Sinclair Estate (signed by Crispin Sinclair, son of Sir Clive Sinclair
1 x Special envelope to hold certificate
1 x rare Sir Clive Sinclair 48k postage stamp
1 x Acrylic Figurine of Sir Clive Sinclair holding a ZX Spectrum with design artwork behind him
1 x ZX Spectrum Resin Model
1 x ZX Spectrum colour-themed Wristband
1 x A5 Metal Poster (Official Film Poster)
1 x A5 Metal Poster (Practical Wireless Magazine 1958 cover featuring Sir Clive Sinclair)
1 x A5 Metal Poster (Break / Space Key from Spectrum keyboard)
1 x A5 One-off Special issue of CRASH Magazine (Exclusive to this Collectors Box)
1 x USB Cassette Tape (in box) containing legendary ZX Spectrum game making ofs and other rarities)
1 x High Quality Carton Rigid Collectors Box (with Magnetic Closing)
1 x Blu-ray copy of 'The Rubber-Keyed Wonder' Movie + Extras features
The Collectors Box is limited to 200 copies and are selling quickly. If you wanted one – head over to the Gracious Films website.