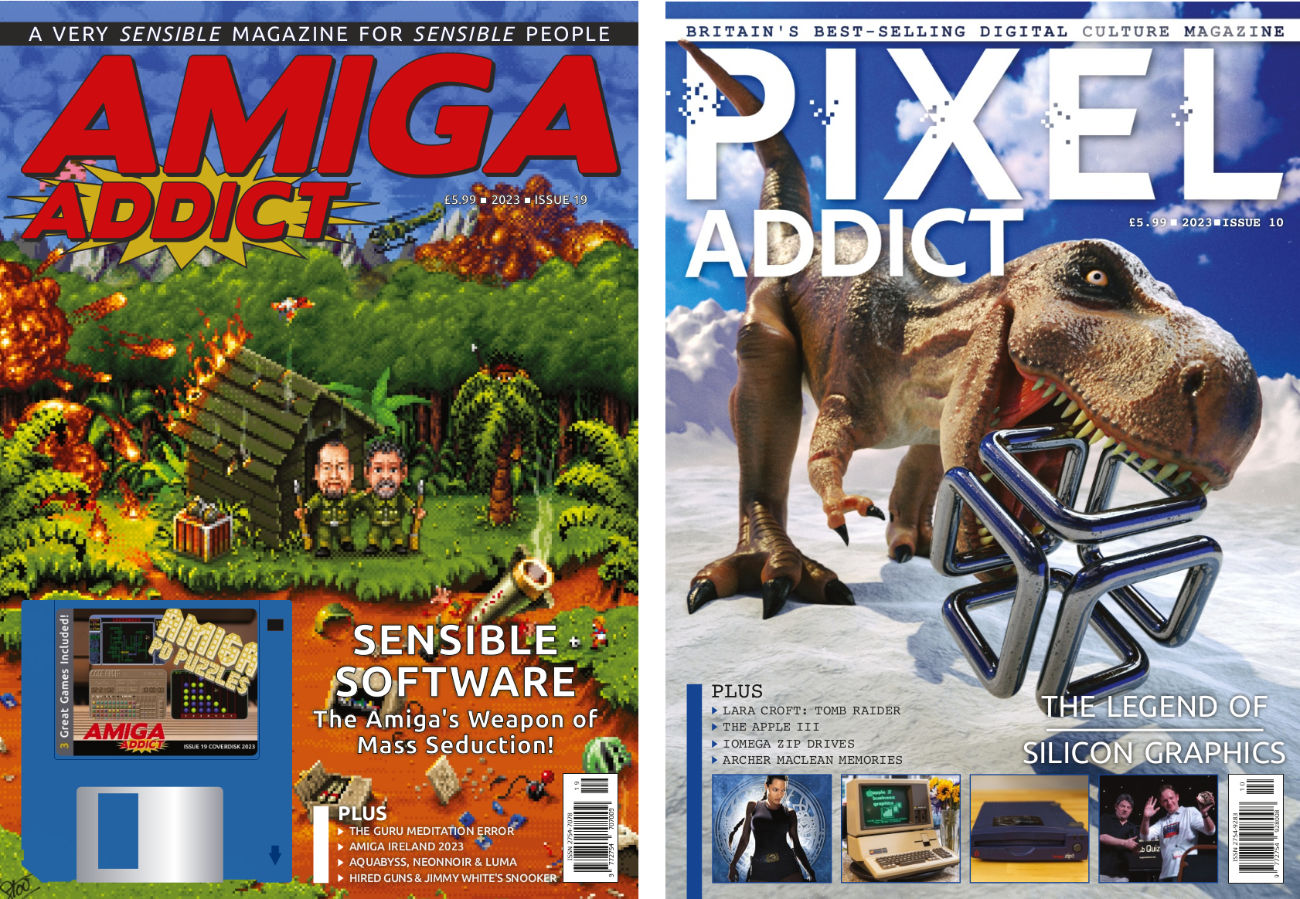 Avaliable to order are the latest editions of Pixel Addict and Amiga Addict magazines.
Pixel Addict Issue 10 includes:​
The history and the legend of SGI, the company behind the Silicon Graphics workstations that enabled next generation movie effects and powerful 3D design.
Lara Croft: Tomb Raider movies starring Angelina Jolie.
Archer Maclean memories – Pixel Addict remember the man behind iconic games such as Archer Maclean Pool, Dropzone, IK+ and others.
Definitive gaming with Sid Meier's Alpha Centauri and Broken Sword.
New column from our special guest Tom of the Wi-Fi Sheep YouTube tech channel.
Rare vintage computer hardware including the Camputers Lynx and Apple III.
Part 2 of Mike Nurney's A-Pet custom computer case series.
Classic PC hardware buying retrospective.
Doncaster Video Games Market 2023 show roundup.
Gaming on the new Atari VCS console.
We visit North West Computer Museum to report back on their launch event.
G.I. Joe – Zartan (Master Of Disguise) toys and collectables.
Magazine chat featuring ST/Amiga Format.
Iomega Zip Drives.
BASIC programming guide.
Regulars such as News, Homebrew Heroes, readers' points of view and ex-Ocean Software's Simon Butler.
Plus lots lots more..!
Amiga Addict Issue 19 includes:​
The sensational Sensible Software! We get the inside story on this groundbreaking games studio from founding member Jon Hare, and legendary pixel artist Stoo Cambridge.
Free coverdisk download of Public Domain puzzlers.
New Amiga games Aquabyss, Luma and NEONnoir reviewed.
The best in classic gaming including Jimmy White's Whirlwind Snooker, Hired Guns and a Turrican II remake.
Six Of The Best sees Neil of the Indie Retro News website pick his favourite Amiga games.
Amiga CD32's hidden "3D chip", the Akiko.
Next Generation Amiga web browsers and online utilities.
The Story Of The Guru Meditation Error.
Amiga Ireland event show report.
Sensible Soccer's social club, London Calling 5.
Mega Lo Mania: The Forgotten RTS.
DJ h0ffman shows off the latest and greatest Amiga Demos in our Demoscene section.
Our regulars including former-Sensible Software's Stoo Cambridge, Amiga news, User Groups, Classic Coverdisk Of The Month and readers letters.
Plus lots lots more..!
Pixel Addict is available to pre-order here, and Amiga Addict is available here.