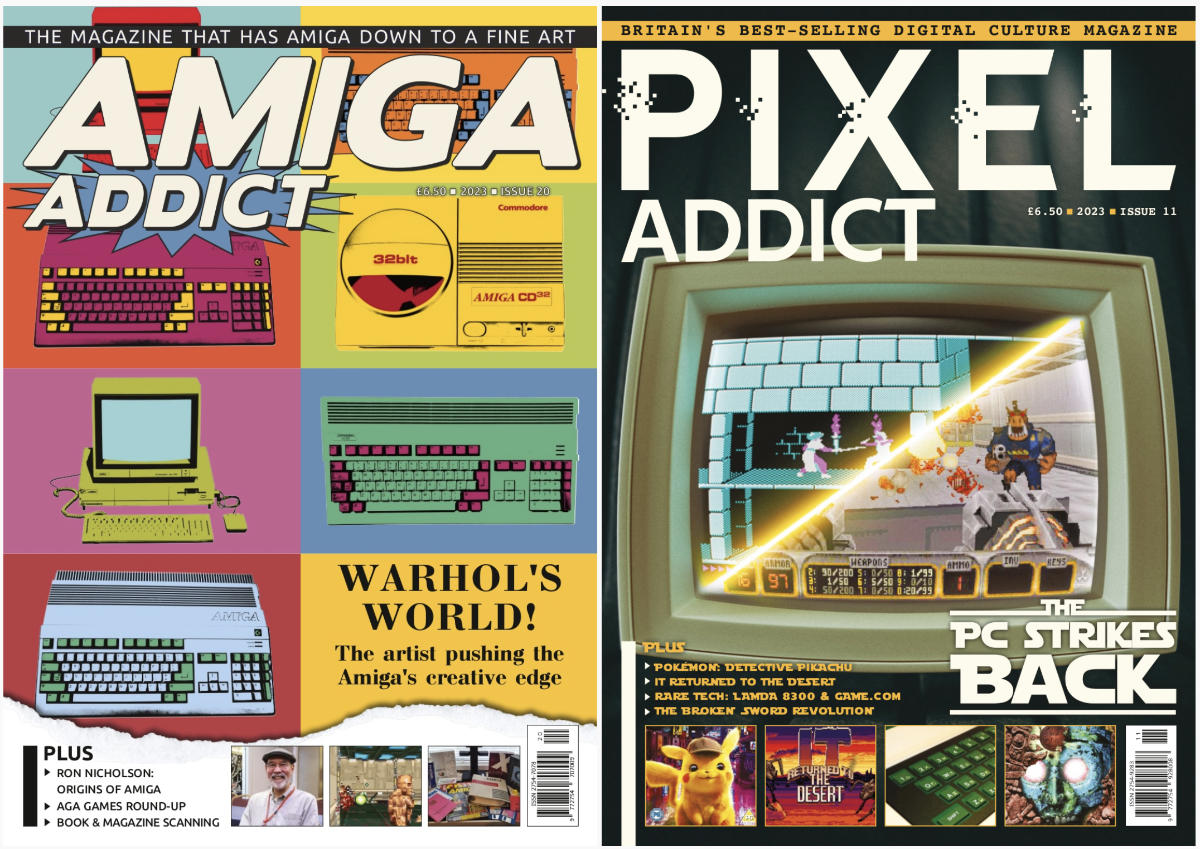 The latest issues of Amiga Addict and Pixel Addict magazines are now available to pre-order.
ISSUE 11 of Pixel Addict includes:​
The PC Strikes Back! We look at the change in PC games during the DOS era and consider how the PC evolved from being an IBM-compatible business computer – winning the fight against consoles – and going on to become the dominant gaming platform!
Pokémon: Detective Pikachu movie retrospective.
Broken Sword: 2D in the new 3D world! Plus: Tony Warriner Q&A.
Acorn BBC Micro in 2023 and beyond.
Rare vintage computing, with the Lambda 8300, the Vectrex and Tiger's Game.com.
The dot com bubble! We discuss the internet and investments in online tech startups during the 1990s.
Robert E. Howard's Conan The Barbarian.
Mike's Vintage Tech YouTube host, Mike Nurney.
Can the current generation of gamers still enjoy classic games of yesteryear? We find out!
Open Transport Tycoon Deluxe.
The latest games for classic video games systems. This month, we round-up new releases for the Intellivision!
New retro game releases reviewed: The Guise, and It Returned To The Desert. Plus an exclusive interview with IRTTD's developer, Tim Rachor.
Regulars such as News, Homebrew Heroes, readers' points of view and ex-Ocean Software's Simon Butler.
Plus lots lots more..!
ISSUE 20 of Amiga Addict includes:​
Amiga Addict explores Andy Warhol's relationship with creating art on the Amiga and how he helped forge our platform's creative identity.
PLUS: An exclusive interview with Amiga World magazine's co-founder and editor Guy Wright, who interviewed Warhol back in 1986 prior to the iconic artist's passing.
We head out on the road, turning our focus to Amiga users and reporting from Lincolnshire Amiga Group, Stamford Peterborough Amiga Group and Yorkshire Amiga Group meets.
The Amiga Walker prototype – the last AGA Amiga computer never to be released.
Rob Smith's new Retro Directory, a free online listing service.
We speak to David Upchurch, the renowned ex-editor of The One Amiga magazine.
Original Amiga hardware engineer Ron Nicholson gives us the low-down on what makes our favourite machine tick.
A brand new gamepad controller for the Amiga: Ralph Egas brings word of his Dual Stick.
Latest game review: Maria Renard's Revenge.
To celebrate both Easter and Amiga Addict's 20th issue, our Gold Standard column reveals the best Easter Eggs and bonuses hidden in classic Amiga games.
A round-up of the AGA games everyone really should have played!
Six Of The Best: classic games picked out by Acidbottle (Wonderboy).
A guide to Bifrost Heimdall Edition, the ultimate LED lighting mod for the Amiga.
Magazine, manual and reference book scanning. We look at the best way to digitally preserve your Amiga-related print media with the CZUR ET16 Plus overhead scanner.
Our regulars including former-Sensible Software's Stoo Cambridge, Demoscene, Amiga news, User Groups, Classic Coverdisk Of The Month and readers letters.
Plus lots lots more..!
You can pre-order both mags at https://www.addict.media/